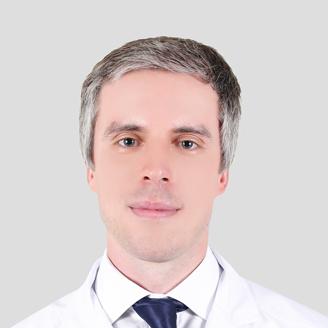 Atarshikov
Dmitry
Ophthalmologist, endocrinologist, head of scientific and clinical centre of ophthalmology.
Experience — 10 years
Dmitry graduated with honours from Pediatric faculty of Pirogov Russian National Research Medical University; residency training and postgraduate training in Ophthalmology. After defence of PhD thesis Dmitry did internship at I.M.Sechenov First Moscow State Medical University and graduated with the second medical speciality of endocrinologist. In 2007-2015 Dmitry Atarshikov was senior research associate at Endocrinology Scientific Centre of the Russian Healthcare Ministry.
In addition to Russian professional training Dmitry went abroad many times to undergo international educational and practical training courses. In 2014 Dmitry Atarshikov received European DISSO diploma (Diploma Superior Specialist in Ophthalmology).
Dmitry's experience in surgery amounts to 10 years. He performed several thousands surgeries of cataract, glaucoma, retinal pathologies, as well as complex operations on eye orbit.
Dmitry is particularly interested in treating eye diseases in diabetic patients, as well as in multidisciplinary approach to treatment of patients with endocrine ophthalmopathy. The distinctive feature of this approach is maximum co-ordination between ophthalmologists, endocrinologists and other specialists providing for timely and efficient treatment.