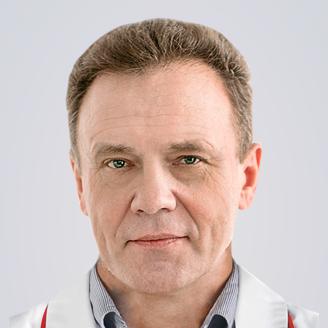 Gravchikov
Alexander
Neurologist.
Experience — 30 years
Alexander is doctor of the highest category who already devoted over 30 years to health care. In 1983 he graduated from the Medical Faculty of Voroshylovgrad Medical Institute, and in 1984 completed internship in Emergency Medicine and Acute Care.
In 1987 he took professional retraining in neurology. In 1990 he established a medical and rehabilitation center within a medical unit of a large company in Tyumen region and headed it until 1998. In 1998 the center was turned into District Drug Rehabilitation Center, which Alexander continued to manage until 2003, combining administrative work with management of neurological patients. From 2004 to 2014 he worked as neurologist in a major medical center in Moscow.
Alexander is a devoted practitioner. He took numerous advanced training courses in leading medical institutions obtaining such specializations as: psychiatry, reflexotherapy, vertebroneurology, and also took a thematic improvement course improvement on Intratissual electrical stimulation method by A.A. Gerasimov, and is currently studying the principles of neurophysiological diagnostics.
He has extensive experience in both outpatient and inpatient management.