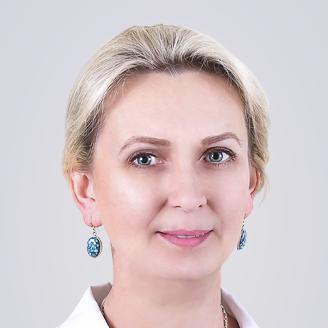 Sapronenkova
Olga
Neurologist, Ph.D., associate professor.
Experience — 31 year
Olga is doctor of the highest category and devoted over 31 years to Medicine. In 1982 Olga graduated from the Medical Faculty of Smolensk State Medical Institute, and in the same year completed internship in general medicine.
In 1983 Olga finished internship in neurology at Smolensk Regional Hospital. In 1984 she graduated from academic neurology courses at the Neurology Department of S.M. Kirov Military Medical Academy.
Olga also specializes in pediatric neurology, acupuncture, use of xeomin for neurologic diseases. In 2005 Olga was involved in studies of prophylaxis and treatment of cognitive defects and reported on the results at an international conference.
Olga is not only an experienced doctor, but also an experienced teacher. She was teaching at S.M. Kirov Military Medical Academy
 and at the Postgraduate Institute for Doctors of the Defense Ministry of the Russian Federation. She developed own educational cycle on neurology which included a full set of training and lecture materials. Olga is active in her consultations, scientific and educational work in leading medical centers; she regularly participates in conferences and is member of the Neurology Society.